Armor Contract Manufacturing is your one-stop Midwest stamping solution for a wide variety of custom-designed, engineered products
We are experienced in large and small production runs, large-scale units, and building to government specifications. Our streamlined contract manufacturing process allows us increased precision and control because all aspects of your project are approached in a uniform manner and are seamlessly coordinated.
Armor Contract Manufacturing is equipped to meet all industry standards, including automotive quality requirements for documentation and traceability of materials through the entire process. We currently manufacture parts for a wide range of industries and can produce almost any size and shape you require.
Aerospace
Agriculture Implements and Storage
Appliance
Automotive
Building/Construction
Electrical
Fasteners for Global Distributors
Heavy Equipment and Machinery
Lawn and Garden
Military
Office Furniture
Oil and Gas
Recreational Vehicle and Marine
Telecommunications
Truck and Trailer
Blank, Pierce, Compound and Progressive Stampings
Flat Stampings of All Shapes
Custom Projects
In House Tool Room
Laser Cutting
Press Brake
Spot Welding
Kitting and Assembly
Vision Sorting
Bracketry and Hinges
Specialty Washers for All Industries
Slitting, Deburring, and Tumbling
First Article/Qualification Testing Part/Tooling Types
Blank, Pierce, and Progressive Dies
Compound Dies
Four Slide Applications
Stampings of All Shapes (Blank/Pierce)
Brackets (Variety of Shapes and Thicknesses)
Washers, Flat, and Through-Hardened
Belleville Washers for All Industries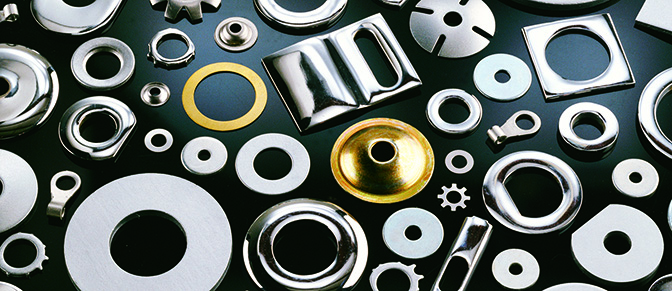 With tooling for over 2,000 fasteners, we provide high-quality turnkey solutions at competitive prices. We provide personalized service for your fastener needs and complete material and processing traceability.
The Armor Contract Manufacturing stamping division is large enough to handle all your fabrication needs. Our Elkhart facility is a single point of contact for our metal stamping services. Our sister machining facility is also located in Elkhart, Indiana. The Armor Group, Inc. has facilities in Mason, Ohio, and Lebanon, Ohio which offer additional Midwest manufacturing space, specialized equipment, and capabilities. Because of our scale, we can handle your Midwest contract manufacturing projects, large and small.