One-stop Precision Fabrication for a Wide Variety of Custom-Designed, Engineered Products
Armor's comprehensive approach to the manufacturing process is centered on the metal fabrication process. All individual parts and components, either designed by our engineers or based on provided designs, can be cut to spec and then fabricated into sub-assemblies or complete products at Armor's Mason, Ohio facility. Our production team includes experienced welders and fabricators skilled in the quick and accurate assembly of many products. Upon final assembly, products can be prepped in our media blast or steam cleaning booths before the final finish is applied. Armor offers a variety of topcoat options, including CARC paint, traditional wet-coat paint, and powder coat.
From project inception to final assembly and shipping, Armor contract manufacturing has the knowledge and the equipment to ensure the best possible results.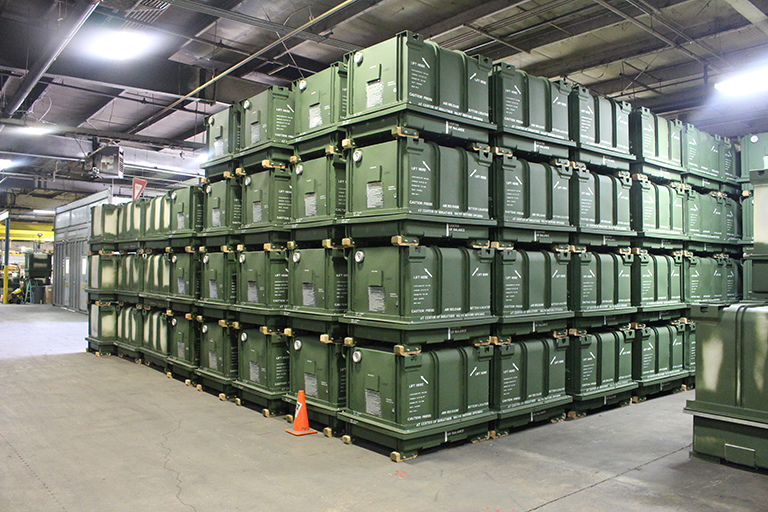 NAICS Codes Serviced 332993, 332812, and 332332
Build to print
Cutting, bending, forming, welding, painting, and assembly
Various fabrications of different sizes, materials
and thicknesses
Manufacturer of parts, assemblies, electrical components
Specialty stainless steel, aluminum, and carbon steel
22 (.029") and heavier, up to .75"
Brake presses 60' to 192"
Laser beds 60" to 120"
Tig/Mig/Spot/ Stud GMAW/GTAW for carbon steel,
stainless steel and aluminum
Extensive range of tooling
Electrical services
Prep, paint, and coatings
Piping
Wiring and panels
Engineering services
ISO quality systems and lean manufacturing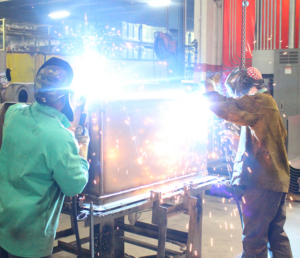 Armor Contract Manufacturing employs skilled and certified welding craftsmen, proficient in most processes, materials, and positions. Certifications include TIG, MIG, Stick and Fluxcore Precision Hand-Welding and Steel, Stainless, and Aluminum.
Welding is a primary characteristic of nearly every product that Armor Contract manufactures. Our skilled welders have years of experience in a variety of materials and processes. With more than 15 individual welding certifications for each process in six different positions, Armor Contract assures each welder is proficient at the specific weld required for any given job.
Welding Processes:
• GTAW (TIG)
• GMAW (MIG)
• Arc/Stick
Welding Materials:
• Carbon Steel
• Stainless Steel
• Aluminum
• Galvanized Steel
• Material Thickness from 14 ga to 3/4"
Armor Welders Certified in:
• AWS Section D1.1 Carbon Steel
• AWS Section D1.2 Aluminum
• AWS Section D1.6 Stainless Steel
• Member of American Welding Society
• MIG, TIG and Stick Welding Experts
• CWI
• ASME R&U Stamp
For open manufacturing jobs at our Elkhart and South Bend, Indiana facilities, visit our Career page on our corporate website.